5 Health Benefits Of Cabbage For Your Baby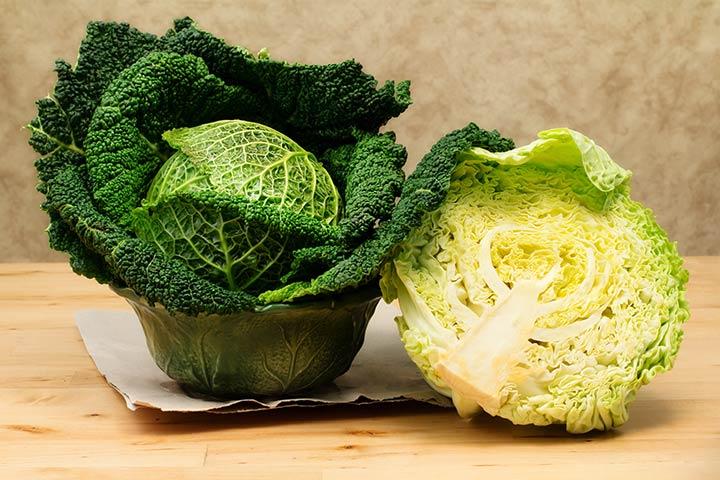 Not many people appreciate the humble cabbage. But the fact is that cabbage is not just good for your health, but also makes a great addition to your baby's diet!
So, if you are looking to add variety to your baby's diet, try cabbage!
You can give your baby cabbage as soon as she is ready for solids – at six months. But make sure to talk to your doctor before you do so. Not all babies grow at the same pace. So, while another baby might be happy chomping down on cabbage, your baby may still need time. Follow her cues, and you'll know when she is ready.
If you use jarred baby food, cabbage may be a difficult choice for you. Not many companies make jarred cabbage baby food. In that case, your best bet would be to make your own at home. But make sure to use organic products to avoid contamination.
Benefits Of Cabbage For Babies:
Some people call cabbage 'superfood', and for a very good reason! Here are some amazing benefits of considering cabbage for baby food:
1. Good For Digestion:

Cabbage is known make you gassy. But that is a good thing! Sulfur rich foods like Cabbage 'feed' the good bacteria in the gut and make digestion easy (1). Cabbage also contains a good amount of fiber, which eases constipation.
2. Prevents Cancer:

Brassica vegetables like cabbage contain glucosinolates, which are known to prevent cancer (2). Cancer may be the thing farthest from your mind right now, but it is never too early to guide your baby to a healthier life!
3. Keeps Heart Healthy:

Cabbage is famous for its cholesterol lowering capacity. Low cholesterol equals healthy heart (3)!
4. Contains Folic Acid:

Did you know that cabbage contains a good amount of folic acid that can help absorb iron from food better (4)? Yes, it does. So, that's another point for the humble cabbage!
5. Detoxifies Body:

Cabbage contains detoxifying enzymes that can flush out toxins from the body and keep it healthy (5).
These were some major benefits of including cabbage in your baby's diet. Though these benefits may not seem like things that a baby would need, but a healthy start to life is the best gift you can give your little angel!
But there are things you need to keep in mind before you go ahead and introduce your baby to cabbage.
Cabbage For Babies – Side Effects To Watch Out For:

Here are some not-so-good points about cabbage you should know about:
1. Can Make Your Baby Gassy:

Though being gassy may indicate a healthy digestive system, it can get uncomfortable for babies. Vegetables like cabbage are at the top of the list of foods that can induce gas in the digestive tract (6).
2. Contains Nitrates:

Cabbage contains a high amount of nitrate. Excessive nitrate in the body can cause Blue Baby Syndrome, where the hemoglobin in the body is unable to carry oxygen to body tissues (7).
3. Low On Calories And Fats:

Cabbage is also called the 'diet vegetable' because it contains very low amount of calories. For an adult that may be a good thing. But babies need a lot of calories to grow (8).
4. Chocking Hazard:

Cabbage is a crunchy vegetable and can prove to be a choking hazard (9). So make sure to cook it properly before you feed your baby.
5. Can Cause Diarrhea:

Consuming cabbage can also cause diarrhea in some cases (10). But this is a problem only if the vegetable is consumed uncooked.
So, now that you about the pros and cons of adding cabbage to your baby's menu, let's find out how you can cook it!
Easy Cabbage Recipes For Babies:

Here are few ideas for cabbage baby food recipes, that you can try at home. Satisfaction is guaranteed!
1. Carrot and Cabbage Puree:

If you want to prepare cabbage puree for baby, then this one is perfect option. Here are two super healthy vegetables – sure to appeal to your baby!
Ingredients:

Half cup chopped cabbage
Half cup chopped carrot
A pinch of pepper
A little butter
Salt (to taste)
How To Make:

Cook the cabbage and carrot and add pepper and salt to it.
Once done, add butter and blend.
Cabbage and carrot puree is now ready!
2. Apple And Cabbage Puree:

Apple is a favorite among babies around the world. Add some cabbage to it, and you have super dish in your hands!
Ingredients:
One apple, peeled and grated
1 cup shredded cabbage
1/4 cup water
Two tbsp raisins
How To Make:

Take a pan and add all the ingredients to it.
Bring it to boil.
Next, reduce the heat and simmer for another ten minutes.
Remove from pan, add to a blender and blend until you get your desired consistency.
Serve!
3. Lentil and Rice with Grated Cabbage:

If you are looking for a wholesome meal, here is a great recipe for you.
Ingredients:
Two tbsp rice
Two tbsp split green gram
1/4 cup grated cabbage
1/4 tsp cumin seeds
A pinch of asafetida
1/4 tsp grated ginger
A pinch turmeric powder
1/2 tsp oil
Salt to taste
How To Make:

Cook the lentil and rice together with 1½ cups of water until both ingredients are soft. You can use a pressure cooker for this step.
Take a pan and add oil and cumin seeds.
Add the asafetida and ginger next (once the cumin seeds begin to crackle).
Now add cabbage and sauté till it is soft.
Next, add the cooked lentil and rice along with turmeric powder and salt.
Mix well.
Let it simmer for a little longer.
Serve warm.
With these easy recipes, adding cabbage to your baby's diet will now be a piece of cake! So, give it a try.
9 Simple Steps To Prepare Prune Puree For Your Baby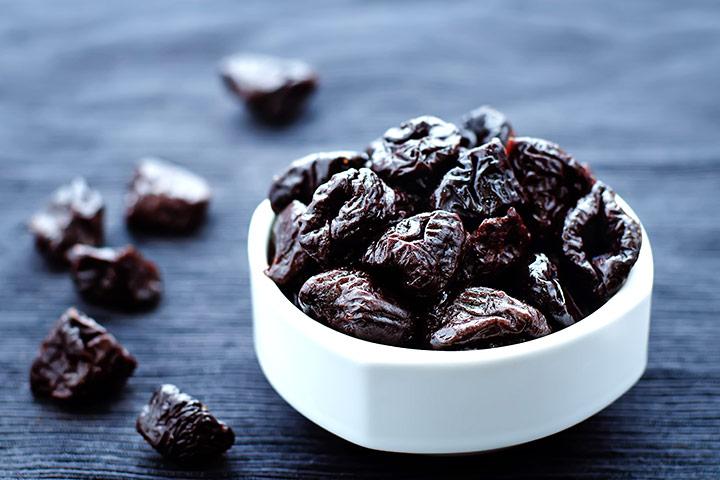 Have you thought of including prune puree in your little angel's diet? Do you know how prune puree can benefit her? If you were looking for ways to prepare prune puree or you simply want to know how it is beneficial for your darling, read our post. Here we look at some simple recipes to prepare prune puree.
Health Benefits Of Prune Puree For Babies:
Prunes are dried plums. These fruits are rich in dietary fiber, Vitamin A & Vitamin C. They contain a low cholesterol and sodium content. For such high nutritional value, prunes help promote digestion and ease your baby's constipation. Prunes don't pose any allergy risks to babies. Your baby can safely consume prune puree.
Prune Nutritional Facts:
Some of the major nutritional benefits of prunes include:
Prunes contain a small percentage of simple sugars, but do not increase the blood sugar levels.
They contain a high proportion of dietary fiber and fructose and have a low glycemic index of 29.
Prunes are rich in carbohydrates and contain a small proportion of protein. They are one of the best sources of dietary fiber.
Prunes are a good source of vitamin A, Vitamin C, and Vitamin K.
Prunes contain a small proportion of essential minerals including potassium, copper, boron, and magnesium.
Prunes contain 240 calories per 100 grams of serving. (1)
How To Make Prune Puree For Baby?
Follow the simple process to prepare homemade prune puree for your baby:
Wash the prunes with water.
Add the washed prunes into a saucepan filled with water.
Put the saucepan on medium flame and bring the water to boil.
Reduce the heat after 10-15 minutes and check if the fruits are tender.
Cool down the heated mixture to room temperature.
Put the tender fruits into a food blender and obtain smooth puree of prunes.
You can add some water to dilute.
The prune puree is ready for your baby.
You can also refrigerate the prune puree for 2-3 days.
Easy To Make Prune Puree Recipes For Babies:
1. Creamy Prune Puree With Apple Juice:
Mix a small amount of apple juice in prune puree. Blend the mixture in a food processor. Delicious prune puree mixed with apple juice is ready. You can serve the puree to 8-month-old babies.
2. Cranberry (Or Blueberry) Apple Prune Puree:
Add all the fruits into the water and put the contents into a saucepan. Bring mixture to a boil over medium-high heat. Check if the fruits are tender. Add more water. Allow the mixture to cool down. Put the mixture in food processor and blend the mixture to obtain a smooth puree. You can also add yogurt to make the texture creamier. You can serve the puree to 8-month-old babies.
3. Chicken And Prune Puree:
Cut the prune into small even-sized pieces. Cut chicken breast into small pieces. Add the pieces of chicken and prune to a saucepan. Add the required amount of water. Cook the contents until the chicken is boiled. Transfer the mixture to a food processor. Blend the mixture and obtain a smooth puree. You can serve the puree to 8-month-old babies.
Foods To Prepare Homemade Prune Puree For Your Baby:
Yogurt
Cranberries
Peaches
Apples
Blueberries
Chicken
With so many easy to make recipes, it is quite straightforward and incredibly healthy to include prune pureed recipes in your baby's daily diet. The healthy recipes are great for your baby's health.
Did you try preparing homemade recipes of prune puree for babies? How did you make prune puree recipe for baby? Tell us about your experiences here.
8 Simple Steps To Prepare Ragi Porridge For Your Baby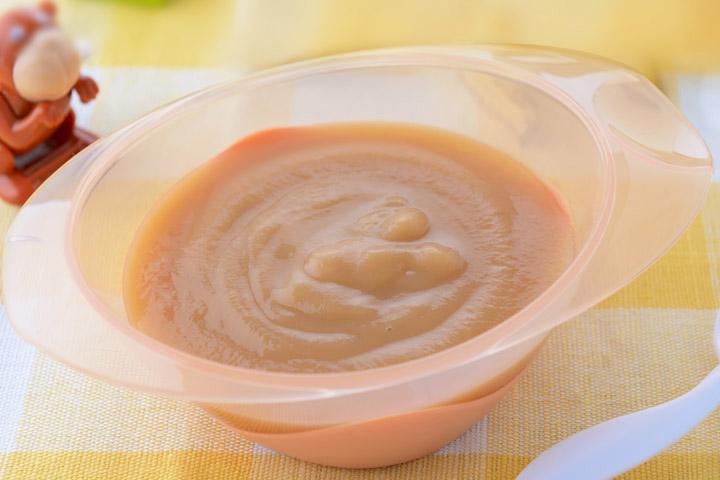 Planning to introduce home-made weaning foods in your baby's diet? Wondering whether ragi is healthy for your little one! If these questions got you to sit up and take notice, consider reading our post. Here we talk about how to make ragi porridge for babies, its benefits, and some simple recipes to make it.
What Is Ragi Porridge?
Ragi or finger millet is extremely nutritious, and it helps your baby's overall growth and development. Finger millet contains high amounts of proteins, calcium, and iron. It is gluten-free, low in fat, absorbable and easily digestible. Ragi porridge serves as one of the best weaning food preparations. You can introduce it to your baby once she completes six months. But, be sure to consult your pediatrician before you introduce ragi porridge in your little angel's diet (1).
Benefits Of Ragi Porridge For Babies:
Ragi porridge has many health benefits for babies, which include:
1. High Nutritional Content:
Rago powder is rich in nutritional contents. It prevents malnutrition in babies and provides them an adequate amount of energy.
2. Easily Digestible:
Ragi is non-acidic and non-glutinous. So ragi porridge is easy to digest. Also, it is a good laxative.
3. Curbs Appetite:
Ragi powder contains tryptophan, an amino acid that curbs appetite. So, ragi porridge is extremely healthy for babies.
4. Makes Babies Feel Fuller:
Ragi powder contains complex carbohydrates. After the baby eats it, the blood releases glucose into the bloodstream slowly. Thus, ragi powder keeps the baby full for a longer time than other foods.
5. Prevents Iron And Calcium Deficiencies:
Ragi is rich in iron and calcium, so consuming ragi porridge prevents the deficiency of iron and calcium. It also improves the production of blood significantly.
6. Enhances Immunity:
Eating ragi porridge enhances your baby's immunity (2).
How To Prepare Ragi Porridge For Babies?
Now that you know why ragi is good for babies let's look at how to make ragi porridge for baby. Initially, introduce ragi porridge to your little baby. Start with feeding her plain bland porridge of finger millet for one week. Once she habituates to the porridge, prepare and serve semi-solid porridge. If your little one faces any problems digesting it, stop feeding her porridge for a few days before resuming.
You Will Need:
One cup of water
Two teaspoons of ragi porridge powder
One teaspoon of ghee
A half cup of milk
A bit of grated jaggery
Preparing Porridge Powder:
Wash the ragi appropriately.
Remove the liquid and spread it on a clean cloth under sunlight to dry.
Once it dries, roast the powder over a medium flame until you smell an aroma of roasted finger millet.
Turn off the heat and place it on a dish. Allow it too cool.
Grind it finely in a grinding machine.
Keep the ground ragi powder in a dry, air-tight can.
Making Ragi Porridge:
Place one teaspoon of ghee in a cooking pan and heat it.
Once it's hot, add two teaspoons of ragi porridge powder and sauté for about one minute.
Add about one cup of water.
Then add half cup milk.
Stir the mixture continuously so that the flour mixes well with the milk.
Make sure no lumps of powder remain in the mixture.
Then add a bit of grated jaggery for taste and stir the mixture properly till it dissolves in the mixture.
Turn off the heat when the mixture reaches an appropriate consistency.
A Word Of Caution:
Make sure you sterilize all the spoons and utensils before feeding your baby ragi porridge. Also, wash your hands thoroughly with soap before you feed the baby.
Have you used ragi porridge for babies recipes? Tell us about them here. Fellow mommies would love to hear from you.