5 Yummy Cheese Recipes For Babies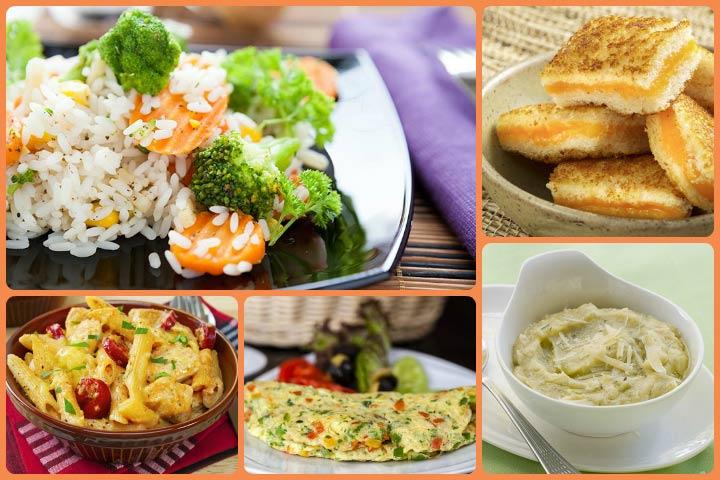 There's something about cheese that appeals to people of all ages. And once your baby starts eating solid food, you can't wait to add cheese in her diet.
Cheese as baby food is a great idea. It is tasty, nutritious and easy to use. So, today let's take a walk through the amazing world of cheese!
The Perfect Time To Introduce Cheese:

Unfortunately, there's no consensus on the best time to introduce your baby to the awesomeness of cheese. Experts in the UK are flexible and say it's okay to add cheese to a baby's diet from around six months of age. But in the US, people are more wary of dairy products. US parents are more likely to wait until 8-9 months before they introduce cheese to their babies. Some experts even recommend waiting till babies are one before making cheese a part of their diet.
So, when can baby eat cheese? The best thing to do is talk to your pediatrician. And if your have a family history of dairy allergy, you can wait till your baby is a little older before you let her eat cheesy food. The same thing applies if your baby has eczema or asthma.
What's So Good About Cheese?

Cheese is delicious and easy to incorporate in baby food. But that's not the only reasons you should add it to your baby's diet. Cheese also offers a number of health benefits:
Cheese is full of calcium and helps keep your baby's bones stronger.
It contains a number of important nutrients like vitamin D and proteins.
Cheese is a great option for vegetarian families. It comes with a whole lot of protein and vitamin B12, both of which are found in meat-based diets.
If your baby is having trouble gaining weight or has special calorie needs, cheese will be perfect for you. It comes loaded with calories and will provide your baby with a lot of energy.(1)
Cheese is also known to prevent tooth decay.
Baked cheese is known to help children outgrow milk allergy faster. (2)
And did we mention that cheese is delicious?
The Good And Bad Cheese:

Frankly, there's nothing bad about cheese! But when it comes to your baby's diet, some cheese are better avoided in the first year.
1. Cheese Perfect For The First Year:
Cheddar
Parmesan
Edam
Colby
Colby Jack
Swiss
Mozzarella
Monterey Jack
Romano
Babybel
Paneer
Provolone
Red Leicester
Cheshire
Jarlsberg
Gouda
Lancashire
Double Gloucester
Grana Padano
Cottage Cheese
Ricotta
Mascarpone
Cream cheese
2. Cheese To Avoid In The First Year:
Brie
Camembert
Chevre
Queso Blanco
Queso Fresco
Danish Blue
Stilton
Saga
Gorgonzola
Roquefort
Wensleydale
What About Processed Cheese?

There's nothing wrong with processed cheese. But you can wait till your child is a little older before you give her a taste of all things processed. Till then, stick to 'real' cheese!
How To Store Cheese:

Spending money on buying some good quality cheese and watching it go bad can be heartbreaking. But storing cheese is easy! Store your favorite cheese in the fridge, wrapped in foil or wax paper. Never wrap your cheese in plastic wrap to avoid chemicals from wrap mixing with the cheese.
Now that you have the basics right – let's cook!
Amazing Cheese Recipes For Babies:

The best thing about cheese? They are so easy to incorporate into your cooking. Here are some great ideas for preparing cheese recipes for baby:
1. Cheese Omelet:

Eggs and cheese – now that's a match made in heaven! To take up the nutrient quotient higher still, you can add vegetables too.
Ingredients:

One Egg (Try organic, if you can)
One tsp milk or water
One Tbsp shredded cheese (You can use any kind of cheese for this recipe)
One tsp butter or oil
How To Make:

Whisk the egg and milk in a bowl.
Melt the butter in a pan over medium heat. Once the butter stops bubbling, pour in the egg mixture.
Spread the egg mixture evenly on the pan.
Let the omelet cook until the egg mixture holds together.
Sprinkle the shredded cheese and fold the omelet in half.
Cook for 30 more seconds.
Cut it into bite size and serve!
2. Mini Grilled Cheese Toast:

It doesn't get easier than this! This is the perfect recipe for a busy morning.
Ingredients:

16 slices firm white sandwich bread
Two tbs melted unsalted butter
1 1/4 cups shredded Cheddar cheese
Pepper (optional)
How To Make:

Preheat oven to 200°F.
Line a large baking sheet with foil.
Use a cooking spray to lightly mist a grill.
Cut the better slices into smaller sizes. You can even cut them into different shapes using a cookie cutter.
Brush both sides of the slices with butter.
Place about 1 1/2 tsp cheese on top of half the bread slices.
Spread cheese over the entire slice.
Season with pepper, if you want.
Put the remaining slices on the cheese topped slices.
Cook the toasts on the grill until lightly browned.
Serve warm.
3. Rice Made Healthy:
Rice is one of the stables in your baby's diet by now. Let's make it a little healthier!
Ingredients:

2 carrots
100g cauliflower
Two tsp baby rice
1 Tbsp grated cheddar cheese
How To Make:

Get the veggies ready! Peel, slice and wash them.
Boil the both vegetables together until they become tender.
Don't throw away the water after you drain the veggies. Use it to blend the veggies together. You'll need around 60 ml of water for this step.
Add the baby rice and cheese and cook.
Keep stirring the mixture until the cheese has melted.
Serve warm.
4. Cheesy Pasta:
Who doesn't love pasta? Give your baby a taste of this popular Italian food with the goodness of cheese.
Ingredients:

1 cup cooked pasta
1/2 cup pureed or chopped soft cooked carrots
Grated cheese
How To Make:

Mix carrots with the cooked pasta.
Sprinkle cheese on top.
Serve warm.
5. Sweet Potato And Cheese Mash:

This is one of the colorful baby food recipes with cheese which has everything – vitamin A, vitamin C, calcium and a yummy taste!
Ingredients:

120g sweet potatoes
One medium carrot
25g grated cheese
How To Make:

Boil the carrot and sweet potatoes until they are tender.
Mash or puree with cheese.
Other Cheesy Ideas For Your Baby:

There are other fun ways of using cheese in your baby's regular diet. Check out a few right here:
1. Funny Shapes:

Cut che ese slices into fun shapes. Quick, convenient and sure to appeal to your baby!
2. Veggie Delight:
A great way to get your baby or toddler to eat her veggies. Simply cook your vegetable and top it up with shredded cheese! Or you can puree your veggies and mix in melted cheese. Yummy!
3. Grate 'em Up:

Grated cheese is versatile. You can use them almost on any dish. Soups, pizza, risotto – just sprinkle some grated cheese and you are good to go!
4. Use As Topping:

Cooking oatmeal cake or a bagel? Simply top it with cheese!
Amazing ideas for your amazing baby! Try these cheese recipes for babies today and let your baby enjoy the taste of cheese. The health factor is a bonus!
So, when are you planning to introduce cheese to your baby? Tell us in the comments section baby?
9 Simple Steps To Prepare Prune Puree For Your Baby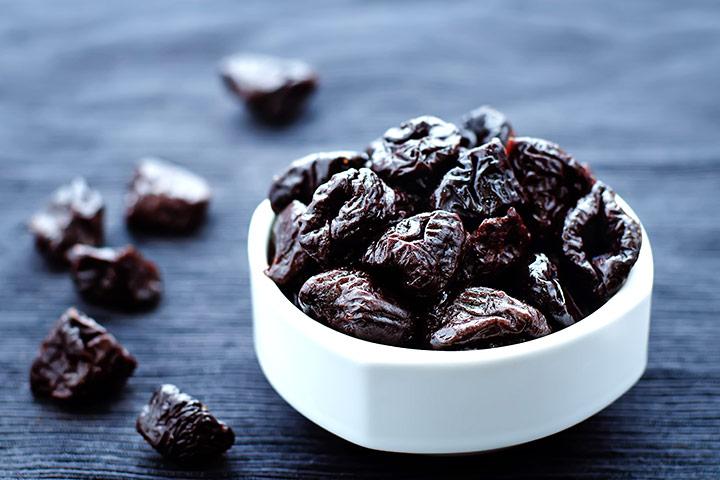 Have you thought of including prune puree in your little angel's diet? Do you know how prune puree can benefit her? If you were looking for ways to prepare prune puree or you simply want to know how it is beneficial for your darling, read our post. Here we look at some simple recipes to prepare prune puree.
Health Benefits Of Prune Puree For Babies:
Prunes are dried plums. These fruits are rich in dietary fiber, Vitamin A & Vitamin C. They contain a low cholesterol and sodium content. For such high nutritional value, prunes help promote digestion and ease your baby's constipation. Prunes don't pose any allergy risks to babies. Your baby can safely consume prune puree.
Prune Nutritional Facts:
Some of the major nutritional benefits of prunes include:
Prunes contain a small percentage of simple sugars, but do not increase the blood sugar levels.
They contain a high proportion of dietary fiber and fructose and have a low glycemic index of 29.
Prunes are rich in carbohydrates and contain a small proportion of protein. They are one of the best sources of dietary fiber.
Prunes are a good source of vitamin A, Vitamin C, and Vitamin K.
Prunes contain a small proportion of essential minerals including potassium, copper, boron, and magnesium.
Prunes contain 240 calories per 100 grams of serving. (1)
How To Make Prune Puree For Baby?
Follow the simple process to prepare homemade prune puree for your baby:
Wash the prunes with water.
Add the washed prunes into a saucepan filled with water.
Put the saucepan on medium flame and bring the water to boil.
Reduce the heat after 10-15 minutes and check if the fruits are tender.
Cool down the heated mixture to room temperature.
Put the tender fruits into a food blender and obtain smooth puree of prunes.
You can add some water to dilute.
The prune puree is ready for your baby.
You can also refrigerate the prune puree for 2-3 days.
Easy To Make Prune Puree Recipes For Babies:
1. Creamy Prune Puree With Apple Juice:
Mix a small amount of apple juice in prune puree. Blend the mixture in a food processor. Delicious prune puree mixed with apple juice is ready. You can serve the puree to 8-month-old babies.
2. Cranberry (Or Blueberry) Apple Prune Puree:
Add all the fruits into the water and put the contents into a saucepan. Bring mixture to a boil over medium-high heat. Check if the fruits are tender. Add more water. Allow the mixture to cool down. Put the mixture in food processor and blend the mixture to obtain a smooth puree. You can also add yogurt to make the texture creamier. You can serve the puree to 8-month-old babies.
3. Chicken And Prune Puree:
Cut the prune into small even-sized pieces. Cut chicken breast into small pieces. Add the pieces of chicken and prune to a saucepan. Add the required amount of water. Cook the contents until the chicken is boiled. Transfer the mixture to a food processor. Blend the mixture and obtain a smooth puree. You can serve the puree to 8-month-old babies.
Foods To Prepare Homemade Prune Puree For Your Baby:
Yogurt
Cranberries
Peaches
Apples
Blueberries
Chicken
With so many easy to make recipes, it is quite straightforward and incredibly healthy to include prune pureed recipes in your baby's daily diet. The healthy recipes are great for your baby's health.
Did you try preparing homemade recipes of prune puree for babies? How did you make prune puree recipe for baby? Tell us about your experiences here.
8 Simple Steps To Prepare Ragi Porridge For Your Baby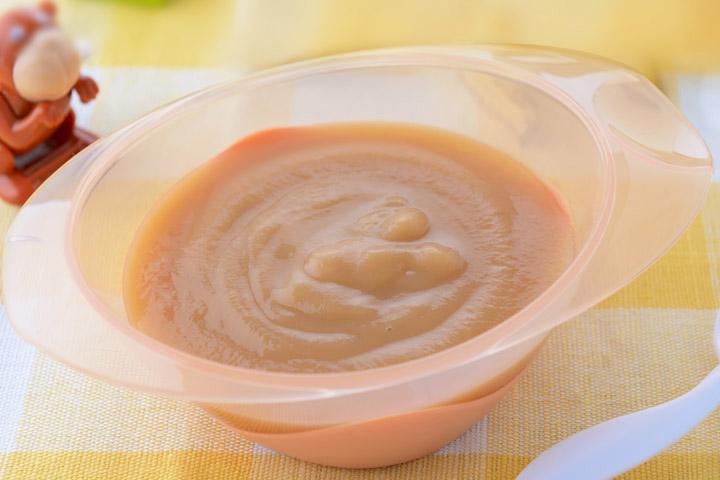 Planning to introduce home-made weaning foods in your baby's diet? Wondering whether ragi is healthy for your little one! If these questions got you to sit up and take notice, consider reading our post. Here we talk about how to make ragi porridge for babies, its benefits, and some simple recipes to make it.
What Is Ragi Porridge?
Ragi or finger millet is extremely nutritious, and it helps your baby's overall growth and development. Finger millet contains high amounts of proteins, calcium, and iron. It is gluten-free, low in fat, absorbable and easily digestible. Ragi porridge serves as one of the best weaning food preparations. You can introduce it to your baby once she completes six months. But, be sure to consult your pediatrician before you introduce ragi porridge in your little angel's diet (1).
Benefits Of Ragi Porridge For Babies:
Ragi porridge has many health benefits for babies, which include:
1. High Nutritional Content:
Rago powder is rich in nutritional contents. It prevents malnutrition in babies and provides them an adequate amount of energy.
2. Easily Digestible:
Ragi is non-acidic and non-glutinous. So ragi porridge is easy to digest. Also, it is a good laxative.
3. Curbs Appetite:
Ragi powder contains tryptophan, an amino acid that curbs appetite. So, ragi porridge is extremely healthy for babies.
4. Makes Babies Feel Fuller:
Ragi powder contains complex carbohydrates. After the baby eats it, the blood releases glucose into the bloodstream slowly. Thus, ragi powder keeps the baby full for a longer time than other foods.
5. Prevents Iron And Calcium Deficiencies:
Ragi is rich in iron and calcium, so consuming ragi porridge prevents the deficiency of iron and calcium. It also improves the production of blood significantly.
6. Enhances Immunity:
Eating ragi porridge enhances your baby's immunity (2).
How To Prepare Ragi Porridge For Babies?
Now that you know why ragi is good for babies let's look at how to make ragi porridge for baby. Initially, introduce ragi porridge to your little baby. Start with feeding her plain bland porridge of finger millet for one week. Once she habituates to the porridge, prepare and serve semi-solid porridge. If your little one faces any problems digesting it, stop feeding her porridge for a few days before resuming.
You Will Need:
One cup of water
Two teaspoons of ragi porridge powder
One teaspoon of ghee
A half cup of milk
A bit of grated jaggery
Preparing Porridge Powder:
Wash the ragi appropriately.
Remove the liquid and spread it on a clean cloth under sunlight to dry.
Once it dries, roast the powder over a medium flame until you smell an aroma of roasted finger millet.
Turn off the heat and place it on a dish. Allow it too cool.
Grind it finely in a grinding machine.
Keep the ground ragi powder in a dry, air-tight can.
Making Ragi Porridge:
Place one teaspoon of ghee in a cooking pan and heat it.
Once it's hot, add two teaspoons of ragi porridge powder and sauté for about one minute.
Add about one cup of water.
Then add half cup milk.
Stir the mixture continuously so that the flour mixes well with the milk.
Make sure no lumps of powder remain in the mixture.
Then add a bit of grated jaggery for taste and stir the mixture properly till it dissolves in the mixture.
Turn off the heat when the mixture reaches an appropriate consistency.
A Word Of Caution:
Make sure you sterilize all the spoons and utensils before feeding your baby ragi porridge. Also, wash your hands thoroughly with soap before you feed the baby.
Have you used ragi porridge for babies recipes? Tell us about them here. Fellow mommies would love to hear from you.